Image: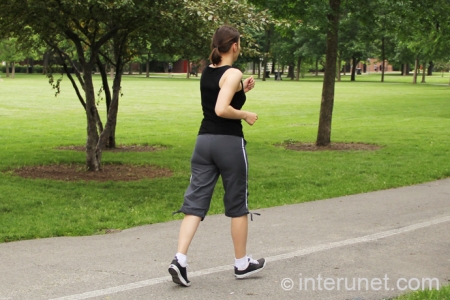 Everyone knows that from wise behavior of a mother depends the most valuable thing, the health of her baby. I also ate well to ensure my child's proper development and growth. On the beginning of my pregnancy, my body did not built up pounds fast, but starting from 4th month I came every month to my prenatal appointments with about 10 pounds gain. This happened partially because I got gestational diabetes and everything went out of any control.
Doctor even advised me to slow down with my rapid body mass increase. However, it seemed like did not depend much on me. How hard I tried not to accumulate fat so fast, but nothing worked. Then my physician started teaching me not only how to control my blood sugar, but how to manage my weight as well. Even though I still added more pounds than necessary, but these advices helped me a lot when the time came to lose all of that.
Right after delivering my child, I dropped about 10 -12 pounds (4.5 – 5.5 kilograms) of my body mass. On the first look it might seems like a lot, but compare to over 60 pounds that I gained during pregnancy, it was not noticeable at all because almost all of those pounds were placenta and my baby. In addition, following labor I still looked like pregnant.
Below are four main things that helped me the most to lose over 50 pounds of excessive weight in 6 months in the order of usefulness.
1. Walk
I went for long walks with my son 2 – 3 times a day to a park and sometimes a store. Usually it takes me to get to the closest park from my house approximately 3 – 5 minutes by car. I'm not very fast walker, so it took me about 20 minutes to get there by foot. I also took trips to the nearest store to buy fresh fruits. Since I wanted to get rid of extra pounds fast after my labor, it was necessary for me to reduce driving time as much as possible.
2. Breastfeed
To be honest, I did not really believe in magical weight loss while breastfeeding. I heard many times that people relate pounds melting with nursing your baby because a mother's body needs lots of energy to produce milk. However, now when I finished breastfeed my child, it seems like became harder for me not only to lose pounds, but even to maintain my weight.
3. Physical activities
When my son had a tummy time, I also tried to do some warming exercises, crunches, and pushups. I did not exercise for a long time because my child could not lay on his belly longer than about 10 minutes. But such physical activities are great way to tone muscles and burn some calories.
4. Diet
Since I breastfed, my diet was not harsh at all. I just tried to eat more fruits compare to solids and drink plenty of water. My active child kept me busy all the time, so I did not have time to go to the refrigerator often.