Back to top
Acura
2016 Acura RDX
New entry level luxury SUV. 2016 Acura RDX - upgraded and technologically improved 5-passenger crossover with great safety features and good fuel economy.
2016 Acura NSX
New two passenger all-wheel drive sport coupe from Honda. Sport-Hybrid 2016 Acura NSX – hi-tech supercar exterior design.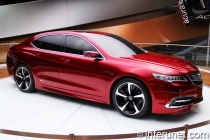 2015 Acura TLX prototype
2015 Acura TLX prototype - luxury sedan from Honda. New sedan exterior design.