Image: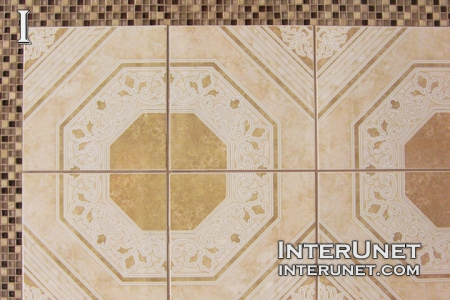 Tile is one of the best choice for covering bathroom walls and floor. Along with its durability there are many options available for creation a unique bath design and style. Beside its appearance there are different types of tile with a specific properties and qualities.
Consider the type of tile
Ceramic tile is a budget friendly option and the most popular choice because relatively easy to install what makes it more attractive in comparing with other tiles. It comes in two options: unglazed ceramic usually require sealer application after installation, but some products does not have to be sealed; glazed ceramic – most of the ceramic tiles are glazed. Before buying check the grade or quality and PEI (Porcelain Enamel Institute) wearing rating.
Porcelain tile is made through the same process as ceramic but it has a lower water absorption coefficient and PEI rating usually 4 or higher.
Stone tile
Granite, marble or travertine tile are among the most popular choices. It is harder to install and prices are higher in comparison with ceramic or porcelain. Slate tile might have sharp edges but stunning appearance. Stone tile have to be sealed not only after the installation but regularly every 12 month or as manufacturer recommends.
Glass tile – is one of the hardest to install. While simple wall installation is not that complicated finishing edges might require skills and will definitely lead to increasing labor cost to remodel a bathroom or building a new one.
Choosing desire dimensions of tile
Thickness is important for installer or contractor, but tile width and heights is what matter in appearance. When it comes to tile the options are endless. It is not only a case that manufacturers offer products in a wide range of sizes, but it might be customize during the installation as well. Some tile might be as small as 1" x 1" or even less, some might go up to 24" x 24" or even bigger and everything what in between can purchased or made at a jobsite.
Picking the right color and finish
From 100% natural appearance of limestone or onyx to distinctive plain green, blue, red or any other colors of man-made tile there are wide variety of choices. While shopping for a new bathroom tile consider the fact that natural stone might vary in colors and shades. The best option is to go to a local distributor or retailer and pick the tile directly from there or order a sample first. There are also variety of tile finishes from glazed to matte and some of manmade tile might imitate a natural appearance. For instance, porcelain tile with a marble finish is a very popular choice.
Which tile is a best choice for tiling a bathroom floor and walls?
Any quality tiles are a good choice and only the design matter. The only products should be avoided is using low grades (first or second) ceramic tile for the floor applications. With a proper installation porcelain or glass tile is nearly maintenance free and will last for decades unless it will go out of style and will be replaced for some modern options. Any stone is a very durable product, but it might be scratched by a sharp and heavy objects. All stone tiles have to be sealed periodically.
By its origin stone is a natural product and many chemical cleaners which might be used for cleaning a bathtub or toilet can damage the surface of stone tile. That is why none of the products which contain acids or alkalies should be used for cleaning the stone tile.