Image: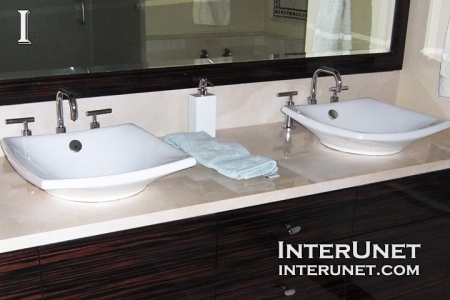 Cost of bathroom remodeling will depend on two factors
- materials and bath fixtures prices
- cost of labor while performing a renovation
There are no averages and the bathroom remodeling cost might very from a few hundred dollars for simple do it yourself refreshment to couple hundred thousand for high quality custom work. Remodeling contractor will estimate the work only after analyzing what has to be done and calculating the materials prices.
What are typical labor costs for remodeling a bathroom?
Who will be hired to perform the work is an initial factor in determination of labor expenses. Licensed plumber and electrician typically will charge $55 - $75 per hour for up to local codes work. There is a minimum fee for one time visit usually $120 - $240 even if the work will last 30 min. Usually labor expenses vary from $1,600 to $2,900 for completing the plumbing in full 6'x8' bathroom including bathtub installation, shower and toilet drains with all water pipes replaced.
Electrician will charge $700 - $950 for standard outlets, switches bathroom fan and light fixtures installation. The cost will increase if additional power line from main electric box has to be installed.
Tile work might cost from $5 per square foot for standard ceramic or porcelain to $15 for custom design stone of mosaic. Tiling 200 – 250 sq. ft. of a total floor and walls area might vary from $1,100 to $3,900 excluding all require preparation work.
Carpenter will charge $40 - $50 per hour for all necessary wood work. All additional labor expenses for standard work including demolition, drywall and backer boards' installation along with painting and finishing up all details will add another $1,750 - $3,100 to the total labor expenditures. If shower door and vanity top will be ordered from local fabricators they will offer installation as well with the price calculated for materials, fabrication and installation.
Total full size 6' x 8' bathroom with a bathtub, separate shower, one toilet and double vanity to get completely remodeled might cost from $6,000 to $9,200 for standard labor work. Customization might double or triple the price and will depend on the work complications.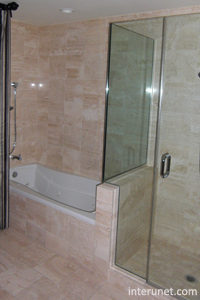 Materials and bathroom fixtures prices
There are no typical or usual expenses. Cheapest options of all fixtures and materials come in standard sizes and very limited when it comes to design. Custom products might be a few times more expensive compare to standard ones, but it comes with endless possibilities in styles and choices.
Ceramic tile might be bought for as low as $0.99 per s/f at the same time 12" x 12" marble or granite tile might go up to $10 per sq. ft.
Standard 5' wall to wall acrylic bathtub is easy to get for $160 - $250 but cast iron free standing tub might go up to $5,500 - $7,000 or even more for brand name products.
Stock or from the shelf a bathroom vanity with vanity top and already integrated sink on the lowest end can cost $80 - $100. But prices for natural wood with a stone vessel sink vanity will starts from a few thousand dollars.
Low flushing performance toilet might cost $90 - $120 each, but prices for higher quality and better performance products might go up to $900 or even more for particular brands.
All materials including copper and PVC pipes, new valves, electrical outlets, switches, drywall, mortar for tile and dozens of other necessary things will add additional $1,300 - $2,200 to the overall materials expenses.
Typically contractor who will perform bathroom remodeling will calculate and buy all necessary materials with reflecting the cost in an itemized estimate.
What are the total expenses?
If it is a complete full 6' x 8' bath renovation with replacing all fixtures, redoing plumbing and electricity and consider to hire a fully insured and licensed contractor you are facing around $12,000 - $16,000 in labor and materials including all fixture for a standard with a warranty work. Customization might elevate the price up to $90,000 or even more.
There are very popular term among homeowners how much is a charge per square foot. The answer from $270 s/f to $1,900 s/f or even more does not make much of a meaning. If you know how to remodel a bathroom by self – simple renovation can be done even for $20 per square foot another remodeling project might be calculated at $2,000 per sq. ft. rate - it all depends.