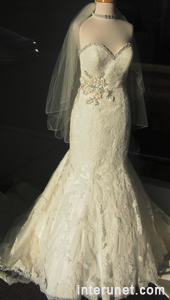 Prices for bridal gowns vary significantly. Some simple standard dress from local store can be bought for as little as $120 - $180. But designer collections are much more expensive and a stylish high quality gown can easily have $3,000 - $5,000 label price or even more. Typically middle class do not spend that much and for $800 - $1,300 you can get very nice looking dress which will completely satisfy your taste and budget mostly.
Buy local or online
Purchasing a wedding dress from local retailer or boutique has a biggest advantage – you can try desire gown and pick the one which will be a perfect fit. Buying online might be cheaper and there is always a possibility to save on sale taxes. But making the purchase based on a picture might be a risky decision. Even if you have a pretty standard body shape and very typical size like 4, 6 or 8 there are still might be a possibility of not a complete satisfaction after receiving the order. And those who are having a hard time to find a regular cloth which will suit the body proportions adequately shopping for a wedding dress local might be the only solution.
Renting a wedding gown for one day event might be the best option if the budget is low. $2,800 - $3,500 worth designer wedding gown might be rented for wedding ceremony and celebration for about $400 - $500. But cheaper dresses with average retail price $900 - $1,400 might be rented for $170 - $370. The main concern about renting is that the gown was already worn a few times and selection might be limited.
Does it worth to spend a fortune for one day event?
While nearly all brides wish to look beautiful at wedding day it doesn't mean the gown has to be extremely expensive. Spending couple month salary for the dress which will be wear ones might not be a wise decision. If the money is not a biggest concern than $4,000 -$6,000 purchase might be considerably adequate solution. But only a small percentage of people might find out such spending is reasonable.
Choose a fabric
Fabric from which the wedding gowns actually made of is not the same. Polyester synthetic fiber typically used for making cheapest dresses. Silk is the most common material which exists in variety of different forms. Many manufacturers or even designers use silk or cotton as well as combination of both materials for.
Size considerations
Typically size won't affect the price of wedding gowns. Usually machine made dresses in standard sizes will have the same prices and it is doesn't matter whether you wear size 2, 4, 6, 8, or 10 the cost will be the same. Other thing if your body shape is not proportionally standard you might need to spend extra on making the dress to fit better. Typically 4 measurements have to be taken: bust, waist, hips and shoulder-floor length. Let say, standard size 10 assuming you have 36" x 28" x 39.5" x 58", but if the measurements significantly different it might be better to get a gown made according to your body shape what might be more expensive than just choose something from a stock options or you need to ask a tailor to do some needed adjustments.