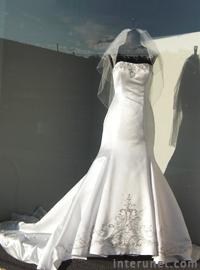 Importance of the wedding dress
Every bride wants to look in her very special day extremely beautiful. However, getting a desire dress for a wedding day might be hard to afford. Many brides are facing decision whether to purchase the wedding dress or rent it. They have to balance between what they dreamed about and what they are willing to pay for.
Acquire the wedding dress
Obviously, the brand new dress is all the time better if you don't concern about your budget or can find a very good deal.
Where to find a good deal on the wedding dresses
Some people order dresses directly from manufacturers and pay for the new wedding dress as low as about $100 - $200. They face some risks, though, that the dress won't fit as it expected and other issues, but if you are lucky enough to get what you like by making such a small investment, you should go for it. Normally it is not that risky to do if you have standard size of your body shape. If not, as many women have, then it will be like gambling for you. You might get a good deal or disappointment and waste of money.
Issues with a purchased wedding dress
It might be hard to sell the dress if you ever want to do it. Some websites offers even to rent your wedding dress out, but you might be not satisfied with the price they may offer and the concern may arise in what condition you will get it back.
Renting the wedding dress
Renting is an excellent idea for those who are on a budget and don't want to spend a fortune for just one day event. In addition, after wedding day you have an opportunity just to return it and don't need to think about preserving or storing it. Anyway you won't wear the dress anywhere and it will just take a space in your closet. On the other hand, it might be challenging to find something that you like if you live in a small town. The cost of driving to the big city and spending there about a day for the search might not be worthwhile.
Is it better to rent the wedding dress over the internet or from the shop?
No matter whether it is buying or renting over the internet, you might still run into the problem that it won't be exactly what you expected. Therefore, it is wise to do it way ahead of the big day in order to have enough time for the exchange if necessary. Ordering on-line might be cheaper and you might save on taxes as well.
With renting the dress from the local bridal shop you will have an opportunity to try the dress and pick what will fit the best. After final decision you actually can walk out from the shop with the dress and then just mail it back the very next day after the wedding.