Image: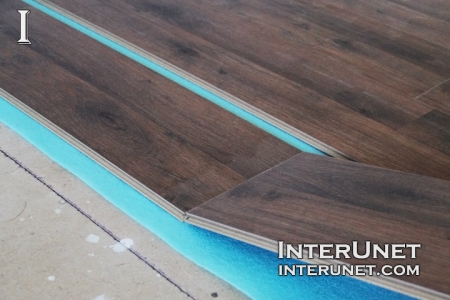 What homeowners should expect to pay to install laminate flooring?
Homeowners will have to pay for the labor or tools rental, materials and its delivery. In the price of laminate materials they should include the flooring planks and expenses for underlayment unless it comes attached to each board from manufacturer. If you plan to lay the floor as a do it yourself project then you will have to rent the saw. Since tongue and groove laminate flooring planks have a click and lock installation system even not experience handyman can potentially perform the work as long as he has time and wish to do it. Only cutting pieces might be somewhat challenging. Also you should keep in mind that some space between walls and the flooring coverage should be left in order to let it expand.
Homeowners should be aware, though, that if your subfloor needs to be changed or build than in most cases it is better and cheaper to opt out from doing this project yourself. The rule of thumb is that the bigger floor area should be covered or the more other additional work will be involved the better overall price deal you'll get from any contractor.
If you decide to hire a professional installer to perform the work you will have some piece in mind that everything is done correctly and in case something happen you will have a valid protection and warranty coverage that won't be voided. Homeowners should expect to pay for the labor which in different cases will cost you a lot differently. Normally when you call to your local contractors you shouldn't ask about how much they charge per sq. ft. because it might not reflect the price you may face eventually. For example, despite the fact that any professional installer has his own price list, but depending on how big the area should be covered and some complications (if any), they can tell you only the price range before they see the actual project. Be careful, though, because some especially cheap installers might say you lower price initially and then start to add other charges which might result in totaling the cost you won't be able to afford. Therefore, homeowners should make a list of questions which they want to ask in order not to go out of budget.
What other charges might go with the installation of laminate floor?
It is also necessary to consider that labor cost may include not only installation process itself, but any kind of demolition, subfloor preparations, furniture removal and putting back as long as you want to do it yourself. If you plan to install laminate flooring in the kitchen then all disconnection and connection of appliances should be included in the labor cost as well. Additional charge will go for baseboard installation, so if you want to cut your expenditures at least on something, it is the type of work that can be done relatively easy as a do it yourself project. You need to watch a couple of video tutorials to get more comfortable with what you are going to do.