Image: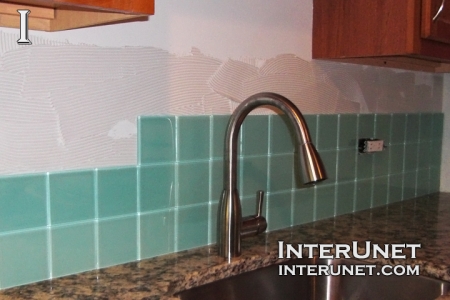 There is lots of backsplash coverage available on the market. However, tile is one of the most used backsplash materials. Tiling your backsplash can be challenging because of too many choices should be made. For example, homeowners should set the budget, decide whether they want to hire a professional contractor to perform the work or install it by themselves. The hardest choice that should be made is what type and shape of tile to choose. You need to balance between the cost of the project (what you can afford or willing to pay for) and the quality and complexity of the work you might want to get. Where to buy tile is also can be a problem.
Which tile to choose for the kitchen backsplash
Normally many homeowners like to match color of their backsplash tile with color of the floor as long as they don't have any other flooring material on the kitchen. In addition, depending on the countertop homeowners may opt for or out from thick or thin tiles. In any case, which tile to choose can be only your decision depending on your overall kitchen style or any other your personal preferences and needs. Normally you should be worry much about how long the tile might last because it is the wall tile; the method of installation that what is really important.
Where to buy tile
Tile can be bought from any home improvement store or online. However, it is recommended to go to the store and actually see and touch the type of tile you like before ordering online because the picture might not reflect exactly the look it is in reality. Other option, you can ask your installer to purchase the tile needed for you. Some of them have good discounts and therefore your overall price for kitchen backsplash might be cheaper. Quite a few contractors order containers with building materials directly from manufacturer for the extremely good price. If you know anyone who does that, you might order that from them. However, even if you can get a pretty much good deal, but your tile choices will be significantly limited. Some homeowners try to find tiles on garage sales, but the quantity might be limited or it may take too long time to find something you like.
Hire a contractor to install tile backsplash vs. do it yourself
If you opt for hiring a contractor, you will be sure that everything will be done properly and pretty much fast. Professionals can install the tile backsplash in one day on an average size kitchen and without too much of complications. On the other hand, when you decide to do the project on your own, you might spend a few days only finding right directions which will work for you in order to get more comfortable with the tile installation process. In addition, it might take a week or even longer to perform the actual installation of the kitchen tile backsplash. The do it yourself project is only worthwhile to do if you have plenty of time.