Image:
Importance to have a good and reliable roof
Roof is one of the most important protective elements of the house from sun, rain, snow, and wind, but it is pretty much a big investment for any family. Therefore, it is very important to have reliable and long lasting one. The roof can serve you not only as a protection, but as source of savings as well. Some people install solar (photovoltaic) shingles in order to get some free energy for sun. Others might choose light color shingles in order to save on the electrical bills because it reflects the sunlight and you won't need as much to cool your house as with dark color roofing materials.
Which shingles to choose
You can choose asphalt, wood, concrete, clay, metal, or slate shingles. They all have their qualifications, advantages and disadvantages. Usually the cheapest option is to install asphalt shingles. However, it doesn't mean that in all climates it would work the same way. For example, in hot climates it might last only up to 10 years and then you should replace it. On the other hand, in cold climates it can have good and trouble free performance even up to 20 years. Read about the roof material properties before purchasing any of those. This will give you some ideas what you are going to deal with.
Whom to hire for roof replacement
Professionals will do the work and be bond to fix it if something will be wrong with it unless it is your fault or some natural disaster happened. It is definitely not a do it yourself project under any circumstances. Even to hire a handyman might be risky and not worthwhile regardless of the project size. Cutting the cost on installation might lead to expensive repair or even the whole roof replacement much sooner.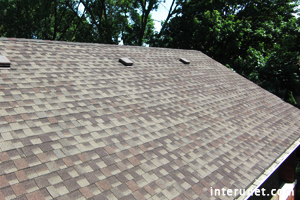 How long does it take to install the roof
It depends on how big the area needs to be covered. A crew of five workers can perform the work on standard size house roof in one or two days if they do only the shingle installation. If they have to do siding or skylights as well it will take more time depending on also the area and complications.
Problems with the roof
Leaking roof is a major problem that many homeowners face whether due to improper installation or other factors, such as because of extremely bad weather or prolong standing of water especially on the flat roofs. Your low slope roof might be damaged because of inadequate drainage system which will result in accumulating water and damaging the underneath plywood. Weak structure that supports your roof is not normally very big problem and can be fixed even without the need of replacing shingles.
Prevention vs repair of your roof
It is easier to prevent any roof problems on early stages than to fix them. Repair and replacement is all the time costly process. Therefore, you need to check your roof condition whether yourself from time to time or ask others to do it instead. You might get even a free inspection of the roof from your local contractors if you invite them to do an estimate. Consider also to purchase the home insurance which will cover your roof damages as well (if any).
Care and maintenance
Depending on the roof type installed you should maintain it according to manufacturers' recommendations in order to prolong its lifespan. For example, wood shingles should be sealed whereas clay ones should be just expected whether anyone is broken.