Image:
How much does it cost to replace roof shingles?
Earlier or later, but installing new roofing will be nearly inevitable. It is especially the case if you are on the budget and choose cheapest or not long lasting roofing materials. However, no matter which type of a roof you have it should be reliable. That's why a roof is one of the most important investments and the decision should be made very carefully taking into account many factors.
Materials prices
Asphalt shingles
Asphalt shingle prices vary mainly depending on quality of the product. You can purchase cheapest options for about $23 – $27 per bundle which covers 33.3 ft2 of a roof surface. For covering 100 sq. ft. or one square of roof you need to buy 3 bugles. Simple roof in smaller house minimum 2000 ft2 (20 squares) adequately 65 bundles including extras for waste and ridge should be sufficient for such roof. Your shingle cost will be $1,495 - $1,755. Middle size house will have about 30 squares of roof area and many asphalt shingles has much higher price.
Wooden shingles
Wooden shingle prices vary depending on the type of wood used. You can buy cedar undercourse shingles for as low as $16 or western red cedar shingles for $44 per bundle which covers 20 sq. ft. So, you need to purchase 100 bundles for the 20 sq. roof. Your shingle expenses will be $1,600 - $4,400.
Labor cost
Labor cost will depend on type of the roof on which shingles will be installed. The more complex roof structure the more you should expect to pay for the work. Professionals will charge more for the wooden roof installation than for the asphalt one. On average roofing contractor estimate labor for architectural shingles excluding preparation and any extra fees at $120 - $140 per each square of roof while wood shingles or shakes starts from $190 per square, but might be priced up to $250 for complex work performance.
Additional expenses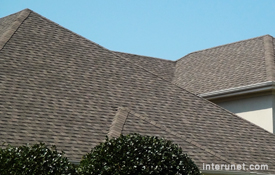 vs
Stainless steel nails
Even galvanize nails with time can rust, therefore, it is recommended to use stainless steel ones which will cost about $50 per box containing 900 nails. On average 25 squares roof you will spend $300 - $400 on stainless steel nails. Buying 1 1/4" electrogalvanized steel roof nail will save you 25% – 30%.
Depending on roof size prepare to spend $130 - $180 on felt paper.
Shipping
Budgeting roof repair you need to take into account shipping cost and include it to overall roof replacement price. Some homeowners ask contractors to buy the materials instead. Most roofing companies will arrange delivery.
Removing the pre-existing roofing
Asphalt shingles can be installed over existing shingles even few times, but if you need to tear everything to plywood then installers will charge for that as well. On the lowest end prices for tearing-off and hauling away all garbage will be estimated at $110 per square for each layer of asphalt shingles and $145/sq for wood roofing materials.
Plywood prices
If your roof has water damage and the new plywood needs to be reinstalled there are additional expenditures. One piece of plywood commonly covers 32 sq. ft. and cost about $15 - $20. For whole 20 squares of roof 63 sheets will be necessary on which you need to spend $945 - $1,260. But replacing all plywood is not typical and few sheets to buy will cost less than $100.
While calculating materials expenses do not forget about tax. It might seem minor, but depending on the state you live in add up to 11% as a sale tax.
Labor cost for plywood installation
Installers can charge whether per hour or per sheet which will include demolishing and installing new plywood. Rates might go up to $60 per hour or $20 - $25 per each 4' x 8' damaged plywood to replace.
Roof replacement is not a do it yourself project and typically roofing company offer option for complete replacement including cost of roofing materials and labor expenses to complete the project. Every charge for roof replacement will be reflected in itemized estimate from contractor. Many homeowners have insurance coverage on roof and all expenses excluding deductible (if any) will be covered by insurance company.
Which shingles are better asphalt or wooden?
Performance
In most cases the cost will determine which roof type the owner will choose. However, lifespan of a roof is also very important factor to consider. For example, the cheapest and most used asphalt shingles will last about 10 – 20 years depending on quality of the product and the climate conditions in your area. Those type of shingles about twice cheaper than wooden ones. But longevity of wooden shingles range between 30 – 50 years what is about twice more than asphalt can perform. In addition natural look and better insulation properties makes wood more preferable solution for many homeowners.
Maintenance
Asphalt shingles do not require any maintenance. In contrast, wooden shingles need to be cleaned and a new protective coat of finish should be applied to prolong the roof good performance.