Image:
How much does it cost to replace a roof?
Replacing roofing materials estimated based on roof area in squares (1 square = 100 square feet). Total cost of replacement varies from $380 per sq for tearing off one layer of asphalt shingles and installing new to $1,700 per square for removing and installation concrete roof tiles. Reroofing 1,900 – 2,100 sq ft two story house with roof area 30 squares and pitch up to 8/12 using architectural shingles will cost $11,400 - $12,000 for labor, materials and old roof disposal.
Roof replacement is not a do it yourself project and should be done professionally. Roofing contractor normally calculate the total expenses for labor and materials divided as a separate charges in itemized estimate.
Roofing materials prices
Asphalt shingles is one of the cheapest options. Prices normally vary from $25 to $35 per bundle which covers about 33.3 square feet or three bundles necessary to buy for every square of roof. Including hip and ridge shingles plus waste factor, shingles for 35 squares roof will cost about $3,200 - $4,400. From couple to a few hundred dollars might be additionally spent for felt paper, flashing, vents, nails or staples.
Cedar roofing shakes cost from $130 to $340 per square and total materials expenses for wood roof vary from $170 to $400/sq.
Natural slate roof typically estimated $320 - $900 or even more per square for materials alone. Synthetic slate might be 20% – 30% cheaper.
Metal roof is not cheap to buy. 26 gauge galvanized steel roof might cost from $1.5 to $3.0 per sq. ft. Some products including copper might have price 50% - 120% higher.
Ceramic and concrete roof tiles one of the most expensive roofing materials and normally selling in pallets with 320 – 450 ft² of tile in each for $510 - $1,700 or $1.6 – $3.8 per sq ft.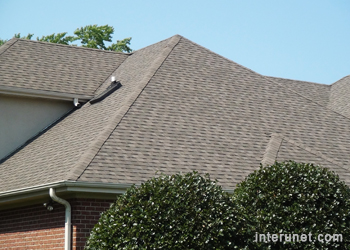 Labor cost
Expenses for labor will be determined by tree primary factors:
Materials used
Cost to replace asphalt shingles normally estimated at $130 per square and additional $90 - $120/sq will be charged for tearing off and hauling away old shingles. The price for demolishing and disposal might increase in roof has a multiple layers of shingles.
Wood shakes will typically cost 35% – 45% more in labor comparing to asphalt shingles for installation and old materials disposal.
Natural slate is much harder to work with and takes more time to complete roofing project. Normally contractor will charge minimum $290 - $330 per square to install natural slate, but prices might easily go up to $17,000 - $18,000 for 35 squares roof.
Concrete tiles are extremely expensive to replace and labor expenditure might vary from $850 per sq for simple roof to $1,400 or even more for complex work.
Roof pitch
Replacing roofing materials on low-sloped "walkable" roofs might be charged at lower rate comparing to high pitch roofs.
Roof configuration and design
Roof with multiple dormers and stylish design will be more expensive to replace comparing to simple single gable roof regardless equal amount of squares.
Additional charges
Rotten wood replacement or fixing any other damages will be calculated based on hourly rate of installers. Roofing contractor can charge $35 - $50 per hour for all extra work associated with replacement.
Cost to replace flat roof
Modify bitumen membranes which cover about 100 ft² roof range in prices from $55 to $75. Some products can be cheaper, some are more expensive. One 5' x 50' roll of TPO self adhesive roofing membrane 60 – 80 mil thick cost $400 - $600 or $1.6 - $2.4 per sq ft.
Expenses for labor to replace a flat roof might range from $160 to $230 per square.