Image:
How much does it cost to replace windows?
Cost to replace a window vary from about $210 for smaller 24" x 24" white vinyl slider and first floor installation to $2,700 or even more for a premium tint glass three sections 58" x 58" dimensions each and upper floors installation. Total expenses for replacing 15 – 19 windows different sizes in two story house might range from $3,900 to $16,000. Easy accessible from outside, within the reach from the ground windows, excluding any associated with replacement additional charges will be estimated at lowest price for labor and materials.
Windows prices
Single hung vinyl windows are one of the cheapest options. Prices for dual pane insulated glass window smaller than 2' in width and height starts from $70 - $80, and single glass might be even less expensive. Garden or bay aluminum clad wood windows will cost much more and prices will range from a few hundred to a few thousand dollars. Special glass design or ordering particular, unique frame color or shape will lead to significant price increase.
Additional materials expenses
Window is a major, but not a single material expense while planning to replace older or broken windows in the house. Aluminum trim, sealant, insulation foam or additional materials to fixing the opening in case of any damages might add extra $15 - $60 per window to the total price for replacement.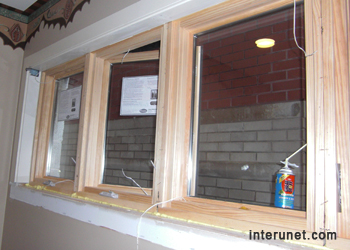 Labor cost
Remodeling contractor will estimate the labor expenses based on work complexity. Standard replacement always include demolition of old and installation same size new window. Typically $90 is lowest labor rate per window if there are a few of them have to be replaced and no cupping or molding work involved. Most contractors will have a minimum charge normally $150 - $200 even for couple hours of work.
Reframing or (and) resizing opening for a new window, installing new interior trims will increase the cost of man power.
Cutting labor cost by hiring unprofessional handyman is not the best option on any remodeling project especially when it comes to exterior renovation and windows replacement in particular. Poor installation might cause leaking or cold (hot) air coming from the outside to the house. Fixing damages might be very costly and it is always worth to pay for quality work one time.
Actual dimensions will play a crucial role not only in determining materials expenditures, but labor cost for replacing as well. Window which weight over 150 lbs and 96 inches in width and 54 inches in height will be harder to work with comparing to compact 36"W x 18"H window and the replacement cost might be 30% – 50% higher.
Disposal expenses
Most contractors will calculate the replacement cost including disposal expenses reflected in itemized estimate. Depending on number of windows there are normally $120 - $150 will be added for hauling away all garbage for disposal. But there no fixed fee can be determined. If it is a bigger project and ordering dumpster unavoidable the cost might go up to a few hundred dollars.