Image: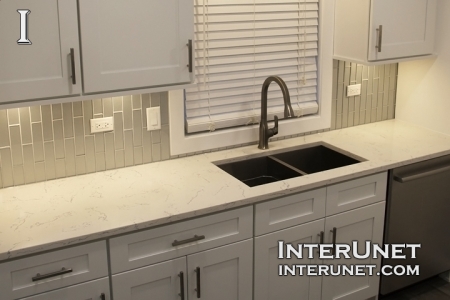 When shopping for a new kitchen countertop, we considered three options. Laminate was our first option because it is one of the cheapest materials unless it is necessary to do some customizations. Granite was our second option because it is widely used, durable, and slabs are wide enough to cover our kitchen island in one piece. Quartz was our third option, and we decided to go with it. Here are some reasons why:
Facts to know about quartz
Quartz is a beautiful, modern, and very durable manmade material which doesn't require a lot of maintenance. Quartz countertops are scratch and dent resistant. This engineered in a factory material is nonporous. That means it doesn't stain and shouldn't be periodically sealed like granite or marble.
Get estimates
After our kitchen cabinets were installed we took exact measurements and got quotes from several fabricators. When choosing a fabricator, our top priorities were quality of work and price. We wanted to deal with a person who could understand our needs and wishes the best. Talking with many installers over the phone and in person (some fabricators give free in home estimates and some do not) was very time consuming. It took us almost a week to decide who will do the job.
Fabricators advices
Some fabricators offered us to make the island from few pieces. This option was not good for us because we did not want seams even if they would be almost invisible. Some had an old-fashioned point of view stating that it is not a good idea to put dark color countertop over the white kitchen cabinets. Some companies told us that they do not do anything for free even simple basic edges.
Qualities
We chose a fabricator who was willing to give us a free in home quote and took his time to explain us how everything works. The installer invited us to come to a warehouse where he buys stone slabs and mark a certain slab that we like that he could buy the marked piece. This is very important thing to do if you want your dreamed kitchen to look its best.
Check a quartz slab
Even though, you might be told that all quartz slabs are the same and good, but it is always a good idea to look closely at slabs to check for cracks especially near edges. For us this was very important because we wanted our island to have as long overhang as possible. If there would be need to fix the edge, then the overhang would be shorter.
Cost of a slab
We saw plain white slabs, slaps with sparkles, slabs with small and big veins, and even natural quartz slabs. The cost of quartz slab depends on the color (whether veins are thin or thick) and thickness of a slab. For our design we chose Carrara white quartz and are very happy with the choice. Balancing a