Image: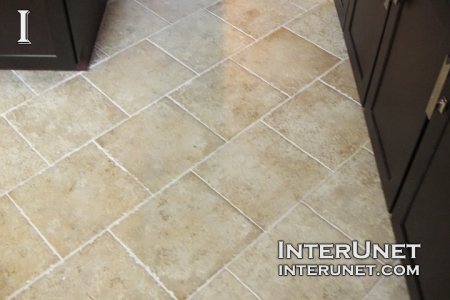 Why to choose laminate for kitchen flooring
Manufacturers design laminates the way it can be installed in any house area. Water resistant laminate can be a decent alternative not only to hardwood flooring but even to tile backsplash in a kitchen. This material can emanate almost any look of other flooring and backsplash options which make it easy to match with the rest of kitchen style and design. In addition, this material's decorative layer can be customly made which can open homeowners' creativity and opportunity. For example, a laminate face layer can reflect your kids' drawings or pictures if you wish and it will be fine with your overall kitchen design.
Laminate as a flooring material is comfortable to feet. It is also scratch resistant which might be perfect for homeowners with pets. In addition, such flooring coverage doesn't require specials maintenance and regular routine cleaning will be enough for long lasting performance.
Why to choose tile for kitchen flooring
Tile is durable and very reliable flooring and backsplash material. It has aesthetic look and with proper installation can last forever. Tile range from very affordable options to expensive ones that can satisfy any style, taste, and budget. Even the cheapest tile materials with certain design and installation type can have unique and elegant look and serve you many years to come. Whether on a low budget or not, but some creative homeowners buy tile from retail stores that want to get rid of discontinued products and sell them for very cheap price. Then they combine that tile in so nice and special way that no one even can think that thousands of dollars weren't spent on the project.
Tile maintenance
As laminate, tile itself also doesn't require too much maintenance and care in most cases. Just regular cleaning and vacuuming should be sufficient to keep it in a good condition. Tile from certain porous materials such as stone should be sealed once a year or once in a few years depending on type of a sealer. Examples of such tile can be granite, marble, slate, and onyx. Some ceramic tile without protective layer on it might also require sealing. Therefore, it is wise to consult with tile retailers on how to properly care about it.
Importance of proper grout care and maintenance
On the other hand, joints between any tile materials should be sealed periodically in order to protect them from damaging and prevent future problems. It is very important to care about grout because if it will be damaged then all tile look can be spoiled as well. In addition, even though to clean the joints are possible and many homeowners do that, but it requires so much hard work. In addition, this procedure has some potential risk of scratching tile. That's why sometimes it might be wise idea to install just new flooring or backsplash than to deal with old, colored, and unsound grout.