Image: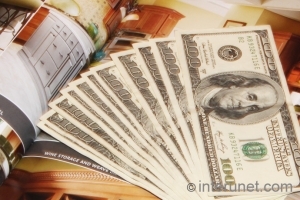 Simple do-it-yourself kitchen rejuvenation can be easily performed for as little as few hundred dollars, while complete custom remodeling, professionally done by a contractor, might be priced at $30,000 or even more. Before analyzing all details it is impossible to estimate kitchen remodeling cost accurately. Scope of work to complete and materials expenses are major aspects should be taken into account while planning the budget for a kitchen renovation. With a huge difference between cheapest kitchen improvement and top notch remodeling make sure to understand what you are actually paying for.
Design and permits
Professional designer might charge $90 - $120 per hour to prepare kitchen drawings based on you preferences. But nowadays many homeowners are able to design future kitchen by self and work out all details directly with a contractor. Cost of permits typically varies from $150 to $300.
Type of residential property
Remodeling kitchen in 3 bedroom apartment located on fifth floor of multistory building with an elevator is more expensive compare to performing similar kitchen renovation in one story single family house.
Cost of materials, fixtures and products
Installation of 35 square feet of granite countertop might range from $1,500 to $2,100 depending on stone color and edge profile. At the same time 40 ft2 prefabricated laminate countertop can be purchased for $230 - $250. Actual cost of flooring, cabinets, countertop and appliances for 10' x 12' kitchen can vary from $3,700 to over $15,000.
Project size
Renovating 400 ft2 kitchen is not the same as laying 60 ft2 laminate flooring and hanging 8 wall and base cabinets. The bigger kitchen is the more it will normally cost to perform renovation, but with increasing in dimensions cost per square foot normally decrease.
Labor expenses
Customization and difficulty of work play main role in labor cost determination. Standard kitchen with floating flooring, stock cabinets and factory made countertop will be priced less expensive compare to installation of nail-down wood flooring, custom cabinets and quartz counter. Moving plumbing for a kitchen sink or adding recessed lighting will result in extra charges.
Getting in-home estimates and quotes comparison
None of professional contractors is able to issue an estimate for kitchen renovation before in-home consultation. Prior to meeting with a contractor, it is essentially important clearly define what you are planning to do because omitting, even seems like minor, details might affect the cost of a whole kitchen renovation significantly.
It is become normal to get more than one quote for certain remodeling projects and make selection based on a price. But choosing the contractor because of lowest bit might not be a wise decision. In any case, if from three estimates one is unrealistically low, the high chances are that there must be something wrong. Think twice before counting on the "big" savings.
Average cost to remodel a kitchen per square foot and budget planning
Considering all factors, actual cost of kitchen remodeling can vary from $50 or less to $600 or more per square foot. In fact, many homeowners even manage to invest less than $800 into primitive refreshment while giving advices how to remodel a kitchen for less than $30 per square foot. Others spend over $4,000 only to get a stylish concrete countertop installed. In other words, average cost per square foot to remodel a kitchen is very low value term which cannot be taken as certain factor while planning the budget for a renovation project.