Image: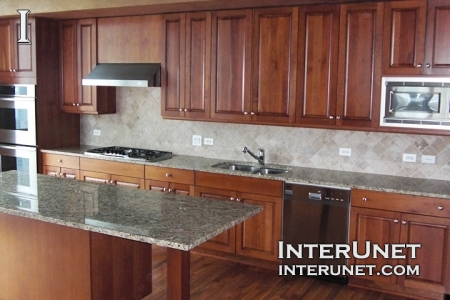 How much does it cost to replace kitchen cabinets?
Total expenses for replacing 16 – 19 kitchen cabinets in 10' x 10' L-shape kitchen might range from $3,400 for a standard stock option and basic installation to $12,000 - $15,000 for custom build cabinets and more complex on site work performance.
Kitchen cabinets prices
Prices vary from $90 for 30" x 36" wall cabinet from the shelf of a local home improvement retailer to $800 - $1,200 or even more for premium 36" x 98" pantry cabinet.
Customization will always lead to price increase. Stock cabinets are the cheapest and the best option to consider on a low budget. Styles and designs might be limited, but for a simple kitchen renovation it might be the only solution.
Brand name European collections customized for a certain kitchen dimensions might be extremely expensive and prices might easily go up to $25,000 - $40,000.
Materials expenses
Cost of cabinets is not single materials expenditure. Designing kitchen yourself and buying kitchen cabinets separately you should be prepared to spend $150 - $300 for toe kicks, wood fillers, panel for refrigerator and all desire moldings. Ordering a whole kitchen from manufacturer or local distributor all necessary parts and elements for proper installation will be included in the total price and reflected on the customer's receipt.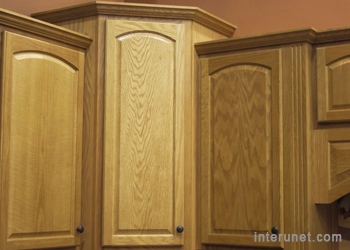 Labor cost
Carpenter might estimate replacement cost per each cabinet installed or calculate the labor expenses for the whole kitchen.
In first case rates typically vary from $35 to $50 per cabinet, but there might be extra charges for installing moldings, fillers, toe kicks or any other additional work.
In second case contractor will calculate the total labor cost after in home estimate and determining the number of man-hours necessary to complete a certain work. This option is much more preferable solution for both parties - remodeling contractor and homeowner because it will eliminate all possible misunderstanding what exactly include in installing a certain amount of cabinets and what additional fees are for. On average professional installer will charge $1,300 - $1,700 for installing up to 20 semi-custom cabinets in 12' x 12' kitchen including hardware installation. Complex custom moldings work will significantly increase labor expenses. Many high end bigger kitchens with stylish islands and complicated installation might easily go up $8,000 - $11,000 in labor for replacing cabinet alone.
Demolishing old cabinets can range from $400 to $900 for a middle size 120 – 140 ft² kitchen, but depending on what will be involve the cost might be much higher.
Additional charges
Kitchen cabinets replacement is only one task of a whole or partial kitchen renovation project. Any work with kitchen appliances, countertop, sink, faucet or backsplash will be reflected in itemized estimate from contractor and there are will be separate charges for every part.
Some cabinets come from manufacturers as separate panels, doors and drawer faces. Assembling at a job site might range from $45 to $60 per cabinet and in many cases might double total replacement expenditures.
Replacing kitchen cabinets is one of the major investments and expenses might vary from 25% to 35% from total amount spent on complete kitchen remodeling.