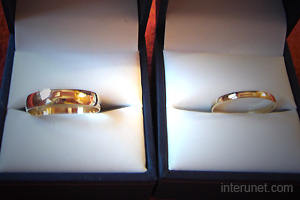 It doesn't really matter whether you plan for your first or second wedding. This day will still be special and exciting because of expectations of new life and opportunities. Each couple want to have it unique and unforgettable.
Start early
In old days usually parents plan and pay for the wedding. Only presence were required from a groom and bride. Nowadays engaged couples commonly arrange their own weddings themselves. It does take some time to organize everything especially if both of them have full time jobs. Therefore, if you want to invite many guests and have a big reception, it is better to start planning for this event about a year ahead.
Set up a wedding date
One of the hardest decisions is to set up a wedding date. First of all this day should be somewhere on weekends and the weather conditions must be nice too. Some couples look weather forecasts before making the final decision, but those predictions more likely will not be very accurate especially if you planning for the wedding few months ahead.
Book place for the wedding ceremony
Usually there is no problem to book some place for the wedding ceremony if you do not have certain preferences. On the other hand, some churches are so busy with wedding events that you probably need to book the ceremony as far in advance as few years. It sounds like crazy, but what couples cannot do for the big day. Just start early in order to avoid limits and frustrations.
Buy or rent dress
When it doesn't really matter whether a bride will have purchased or rented dress, but it will make difference how this dress will suit her. To find the perfect wedding gown might take also quite a lot of time. Do not pay money for the dress if you have at least small hesitation about it.
Send invitations
Making list of guests is also one of the hardest wedding preparation procedures. Only those people should be invited who really want to be there for you and witness the ceremony. Exclude those who might think 'do I really have to come'. This is your day and you do everything for yourself and not for anybody else.
Reserve place for the reception
If engaged couple plan the reception somewhere out, they need to think what might be the most convenient for them. For example, this space should not be too big, small, or far from the place where the ceremony takes place.
Hire a photographer
For long memories you need to hire a professional photographer for your wedding ceremony and reception. It is not just matter of taking pictures, but making nice images and wedding photo albums from them.
Make reservation of cars
One of the easiest decision might be to choose cars if you do it in advance. Of course, the last minute orders might not be that simple and you will probably face many limitations and other inconveniences.