Image: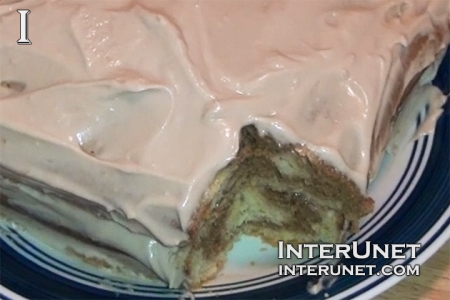 Zebra cake is very delicious and easy to make homemade treat. It is especially recommended to prepare for those families who have children. You will get not only a delicious cake, but also fun time to making it from scratch.
What you should have for making the zebra cake?
In order to prepare zebra cake you need to have at least an electrical or gas oven, two baking pans 8" x 8" of the same size (they can have either a round, square or rectangle shape – doesn't really matter which one you choose), two large mixing bowls, measuring cups, and mixer (nice to have, but optional).
Ingredients for dough:
- 4 - 5 eggs
- 1 1/3 cup of sugar
- 1 stick of butter or ½ cup of butter
- 1 cup of sour cream
- 1 ½ cup of flour
- 1/3 tsp. of baking soda
- 1 tsp of baking powder
- 2 tbsp. of cacao (hot cacao mix or anything that contains cacao)
Ingredients for cream
- 3 tbsp. of sour cream
- ½ stick of butter or ¼ cup or butter
- 3 tbsp. sugar (brown preferred)
- 2 tbsp. cacao (optional)
*1 tbsp - table spoon (approximately 14.9 milliliters)
**1 tsp - tea spoon (app. 4.9 ml.)
***1 cup - 250 ml.
Cooking directions
Mix in one large bowl sugar and eggs very well. You can use a mixer for a few minutes. Then add there sour cream and melted cooled butter. Mix all the ingredients that are in the bowl well again. After that you should add flour, baking soda and powder. You can pour over soda some lemon juice, but it is optional. Steer it well.
Divide the dough by 2 equal parts and place the other half into the second large bowl. In one of them add cacao or anything what you have that contains cacao (i.e., melted chocolate, hot cacao mix, or hazelnut spread will also work). Your oven should be preheated to 375 degree Fahrenheit. Grease the baking pans with vegetable oil and dust them evenly with flour. The dough won't stick to the bottom that way when you try to remove it once it's ready.
In order to get a zebra like affect of your cake you need to pour about ¼ cups of the dough that contains cacao and then the same amount of the one that is not. Don't worry that the first layer won't cover the entire area of your baking pan – just keep pouring. Stop doing so when your baking pans will be 1/3 full.
Bake for 27 - 30 minutes depending on how thick your layer of the dough is. The thicker the layer the more time will be needed. Before taking out from the oven you should insert into the cake a wooden toothpick in order to see whether it sticks to it or not. If your toothpick comes out clean then you know that your cake is done and it is time to take it out. Make sure you are inserting the cake from the side and middle because normally it bakes unevenly.
Enjoy your dessert!
How to make Zebra Cake video instructions