Image: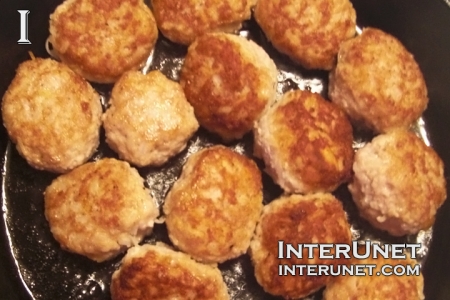 Homemade meatballs are very delicious food which is easy to prepare. They can be served with mashed, fry, or baked potatoes. In addition, it will work fine with rice, buckwheat, spaghetti, and salad. This dish is very good for busy families where they don't have plenty of time for cooking. Meatballs are relatively easy to cook. You can make them on weekends and since you will fry many meatballs, they can be stored in the fridge for other meals as well.
In order to prepare this food you need to have a large mixing bowl, fry pan and spoon, and cutting board or plate. You need to have the following ingredients:
- 1 pound of ground meat (beef, pork, turkey, or mixture of those will work also)
- 1 middle size potatoes
- 1 middle size onion
- 2 cloves of garlic or about 1 tbsp* of chopped one
- 1/2 tsp** of salt
- 1/3 tsp of black pepper
- 2 slices of bread
- 1/3 cup*** of vegetable oil
*1 tbsp - table spoon (approximately 14.9 milliliters)
**1 tsp - tea spoon (app. 4.9 ml.)
***1 cup - 250 ml.
Cooking direction
Place ground meat into a large mixing bowl. Grate there potatoes, onion, and garlic on the small side of a box grater or use an electric blender. Add salt, black pepper, and slices of bread (you might want to soak them in the milk before adding to the mixture, but it is optional). Mix all the ingredients very well with wooden spoon or with your clean hand. Lastly add an egg and blend everything together again. From the mixture you should form balls and place it on the kitchen clean cutting board or plate.
Pour on clean fry pan vegetable oil and preheat it. You can check whether your pan is ready to use by watching for when the oil barely smokes then you can pour a drop of water on the pan and if it starts to bubble you will know for sure that it is time to fry your meatballs. Testing your fry pan is very important since if you put the balls on the cool or just slightly warm fry pan they might stick to the pan surface and then lose shape when you will try to turn them on the other side. It is also necessary to leave the pan on medium flame, because if temperature will be too high you meat might turn brown too quickly but inside might stay raw or might even burn.
Final step in your preparation process is to transfer your meat balls from the plate onto the fry pan. You should remember that it is very important to stay near the stove all the time while you prepare this dish because the meat can burn. It is not like baking where you can put your meat balls in the stove and check them again in about half an hour. If you decide to fry them the process should be under your careful supervision. You need to wait and check bottom side of each meat ball whether it become golden brown. Then turn them on other side and in a while check again. After your meatballs become golden brown from all sides you can transfer them in a large bowl and then serve.