Image:
This is very delicious and easy to make recipe of baked sweet bread. This recipe will be suitable even for those people who have very limited baking experience or never dealt with yeast dough before.
In order to bake this bread you need to have at least two large bowls and medium size one, a measuring cup, and two bread baking pans (loaf pans).
Ingredients
- ¾ cup of milk
- 2 eggs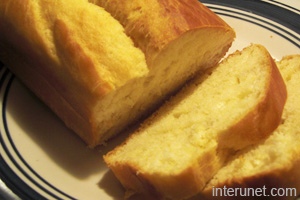 - ½ cup or 1 stick of butter or margarine
- ½ cup of sugar
- ½ teaspoon of salt
- 1 pack of dry yeast (7 g.)
- 2 cups of all-purpose flour
- ½ cup of raisins (optional)
Baking directions
How to work with yeast
Warm up milk a little bit in the large bowl, but not too hot because it might damage yeast. In the warm (not hot) milk add dash of sugar, yeast, 1 tablespoon of butter, and about 5 tablespoons of flour. Mix it well and set aside in a warm place for about 10-20 minutes to rise. Meanwhile, beat two eggs with the rest of sugar in a middle size bowl a little bit and then combine it with melted butter or margarine. You can do combination of those or combination of butter with vegetable oil in case you won't have enough amount of butter at home.
Combine all the ingredients
In the second large mixing bowl put flour and salt. When the mix with yeast will rise about twice its previous size, add all the rest ingredients to the large bowl. Thoroughly mix the batter with the biggest spoon you have at home few times. Remember that sifting is very important part of the bread dough making process and it is easier and better to do it with a large spoon. You can do it by hands if you like that way. Lastly add raisins to the mixture if you decided to use it. Raisins will make your bread even sweeter and prettier. You can mix any other dry fruits if you want to.
Pour batter into bread baking pans
After the batter is thoroughly mixed, divide it into two parts and pour each part of the batter into a greased loaf pan. You may dust these bread baking pans with flour as well, but it is not that necessary. The amount of mixed ingredients should fit in one bread baking pan, but it is better to separate it into two, that way the bread will bake twice faster. Let the batter to rise a little bit in them.
Baking time
Meanwhile, preheat oven to 375 F. When the oven is preheated, place both bread baking pans into oven for about 27 – 30 minutes or until it will be golden brown. After the bread is baked remove it from the oven and from the baking pans and cover them with a paper towel first and then with regular kitchen towel. Leave it covered for about 15 - 30 minutes before serving.