Image:
People always ask how to bake a delicious treat fast and with minimal cooking skills. This pie recipe is one of those easy to do projects that will involve minimal time spend on it and ingredients which most people usually have in their fridges.
In order to bake the pie you need to have at least one large mixing bowl metal or glass preferably, measuring cup, 12 x 12 baking pan, and gas or electric oven.
Ingredients for dough
- 2 ½ cups* of all purpose flour, whole grain or combination of those
- ¾ cup of butter or margarine
- 1 egg
- ¾ cup of white sugar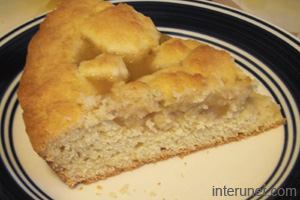 - 3 tbsp* of mayonnaise or sour cream
- 1 tsp* of soda
- 1 tbsp of lemon juice or any other juice you have in your fridge
- 1 tsp of baking powder
- 1 tsp of cinnamon
Ingredients for topping
- ¼ of the dough
- ½ cup of jelly or jam (apple, pear, pineapple, grape, peach, etc…)
Cooking directions
Melt butter or margarine in glass or metal mixing bowl by putting it on the warm place for a few minutes because I prefer not to put in a microwave. However, it is doesn't really make a big difference where you will melt it. The most important thing is that you won't overheat it too much. The butter should not melt entirely, but rather should be just soft enough to work with it.
Add sugar to the melted butter and mix it well. Then add an egg and mix everything again. After that you need to stir there mayonnaise or sour cream whatever you have in your fridge. It is better to put soda into a lemon juice in order to eliminate taste of soda from the pie and then add it to the mixture with baking powder and cinnamon. Lastly you need to put there flour and mix everything very well.
Preheat the oven to 325 F
Divide dough about ¾ and ¼. Place the ¾ portion of dough into the ungreased baking pan raising edges a little bit. There is no need to grease the baking pan since you put inside of the dough lots of butter. Therefore, it won't stick to the bottom or edges anyway. However, if you want to grease or dust it with some flour it up to you. Whatever you want or feel like better works for you.
Pour jelly or jam on top of the dough and start tearing small pieces from other ¼ portion of the dough and throwing them on top of jelly or jam. Some people like to put the ¼ portion of dough into the freezer for about 10-15 minutes and then shred it on top of the jelly or jam. Either way will work fine with little or no difference.
Bake it for about 30 – 32 minutes or until will be golden-brown. In the last minute you can turn the oven to broil if you like, it will make the top of the pie more brown and attractive. After you take it out of the over let it stay for about 10 minutes before placing it on the plate.
*1 cup - 250 ml
**1 tbsp - table spoon (approximately 14.9 milliliters)
***1 tsp - tea spoon (app. 4.9 ml.)