Image: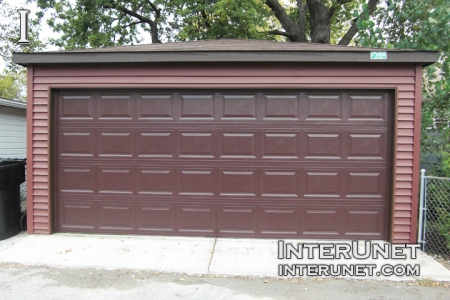 How much does it cost to replace a garage door?
Replacement cost vary from about $800 for sectional aluminum 8' x 7' garage door and standard installation to $7,000 - $8,000 for solid exotic wood custom made 2 car door. But in some cases total replacement expenditures for garage door, material and labor might exceed $12,000.
Average prices for garage doors
Cheapest 27 gauge white finish steel non insulated door 96" in width can be bought from the shelf of a local home improvement retailer or ordered online for about $270 - $300. Prepare to spend $440 - $460 for same quality 16' x 7' door. Aluminum doors normally 15% – 20% cheaper. Handcrafted cedar, fir, redwood or mahogany collections might be extremely expensive and prices for 96"x84" solid wood door starts from $2,100 and might go up to $9,000 or even more. Custom made decorative hardware for matching door style and design will cost additional few hundred dollars. Vinyl garage doors not that expensive, but still standard 9'x7' door might cost over $1,000.
Additional options and materials expenses
Normally all doors come with trucks and all installation hardware. But locks, reinforcement brackets, and door openers sold separately. Decent quality overhead electric door opener cost $220 - $350 including two remote controls. Some doors, which are higher quality, come with energy-efficient insulation from manufacturers, but in many cases budget friendly products won't have any or low R-value insulation included.
Labor cost
Installer will estimate the total cost for replacement after analyzing the work complexity, type and size of a door. Taking out old and installing same dimensions a new garage door might be estimated at $400 - $500 at the lowest end. In the price normally included demolishing an old door, installing new tracks, assembling panels, cable and springs installation. Labor expenses will increase if mounting a garage door opener and programming remote control will be involved. Reframing the door opening, building additional supports will significantly increase the cost of man power and all extra work will be calculated based on hourly rates of installers which might go up $60 per hour.
Labor cost for replacement of a side hinges garage door might be estimated at $600 -$800 including a new door frame installation.
Estimating time
Simple replacement of a standard sectional garage door might be completed by two professional installers in 5 – 6 work hours. About one hour will be sufficient for installing a door opener and programming remote control. It might take longer to replace a heavy custom made wood door.
Hire a professional or do it yourself
Garage door replacement might be performed as a do it yourself project and many handy homeowners might consider cutting labor expenses and replace it by self following a step-by-step installation instruction. But there are a few factors you should take into consideration before making a final decision.
- Garage door replacement is a project not for one person and you should find a helper who will assist with installation.
- It might take much longer to complete the work vs. hiring professional installers.
- Installing garage door springs might cause serious injuries and if you are not sure whether you are able to complete the replacement successfully it is better to pay someone to install it right.
Replacing a single section which was damaged for any reason might be priced at $130 - $210 plus cost of materials.