Image: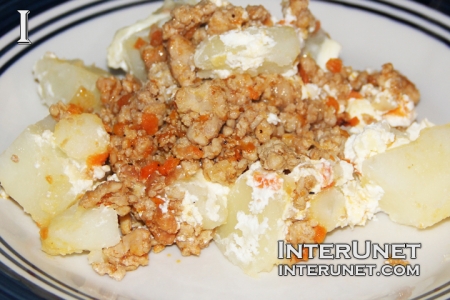 Before combining all the ingredients together, you need to cook separately meat and potatoes.
Step 1
Prepare ingredients for meat.
Ingredients
2 pounds pork ground meat
1 large carrot
1 large onion
salt and pepper by taste
barbecue sauce
1 tablespoon of vegetable oil or butter
Step 2
Pill about 2 pounds of potatoes and chop them making about medium size squares. Place them into the saucepan and cover it with water. Salt and boil potatoes till they are almost ready.
Step 3
Meat cooking directions.
Cover with vegetable oil or butter the bottom of the frying pan. Pill and chop onions. Pill and grate carrots. Fry onions first and stir it constantly to avoid sticking to the bottom. When they become a little bit golden, you can add carrots and mix two ingredients together. After that you need to add ground meat.
Step 4
With a spatula or wooden spoon break the meat into tiny pieces. Mix all the ingredients together. Keep stirring. Usually meat gives lots of water. That's why stirring will help to evaporate it faster.
Step 5
When your meat is golden brown and there is almost no water on the bottom of the frying pan, you can add some barbecue sauce by taste.
Step 6
After that keep the meat for few more minutes on the frying pan and then put in into the large glass baking tray. You do not need to grease the bottom of the sheet.
Step 7
From almost entirely cooked potatoes drain water and place them on top of the meat.
Step 8
Spread over top of potatoes sour cream. Some people like to cover potatoes with grated cheese instead. Either way will work fine. Preheat the oven to 375 degree Fahrenheit. Place the baking tray into the preheated oven for about 20 – 25 minutes.
Step 9
Serve the dish with salad.