Image: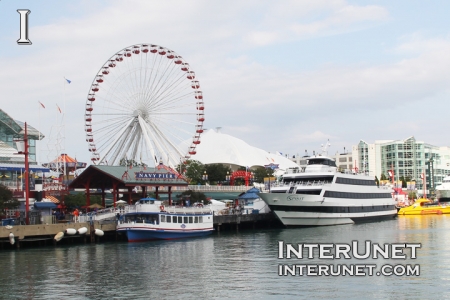 Why Chicago is so popular city?
Chicago city is one of the most famous sightseeing destinations in the U.S. because of its stunning architecture, marvelous landscape designs, and amazingly fabulous collections of arts. There are many well known buildings like Daley Center, Willis Tower (Sears Tower), and John Hancock in the Loop of Downtown Chicago. In addition, this huge city is also popular because of its one of the biggest airport in the U.S., museums of art and science, cultural institutions, famous universities and colleges. Downtown of the city with its skyscrapers is located on the shore of Lake Michigan which makes it even more attractive and exciting for tourists.
Chicago's nickname is The Windy City. Behind the origin of this name is several theories exist, but main one, even though it's still questionable, is because it is really very windy there especially in downtown near the lake. The strong winds blow from the lake side, which make it extremely cold particularly in the late fall, winter, and early spring. Chicago is also the melting pot for so many ethnic groups.
For those who like sport, Chicago is a home of a Chicago Bulls – NBA team where Michael Jordan spent best years in his career leading The Bulls to win 6 NBA championships.
Some of Chicago activities
One of the first 'must see' attractions in Chicago is the Museum of Science and Industry which contains three floors of awesome standing exhibits and also hosts many temporary and traveling exhibitions.
On the shore of the Lake Michigan is very famous and one of the most visited places in the city, the Shedd Aquarium. This place has the best collection of marine life east of California. Visitors can see there all sorts of cool sea habitants in aquariums and acrobatic dolphin shows as well. They have so deep aquariums were whales live that guests can watch from different stores of the building on these giant mammals. Sharks are usually not big sizes there and live in aquariums with other fish because they are not harmful.
The Navy Pier is the best place to spend time for any person especially in warm time of the year. There visitors can enjoy beautiful and breathtaking views on the Lake Michigan and Chicago. In addition, guests can take boat tours which are especially popular in the city. There are so many attractions and activities for children and adults.
The Field Museum of Natural History has the giant Tyrannosaurus Rex skeleton and a plethora of Egyptian treasures.
The Lincoln Park Zoo is a world of wildlife which works every day of the week. Visitors marvel at those wild wonders and can make tons of pictures. In the zoo guests with children may play and learn about the animals and birds.
The Adler Planetarium is a museum which contains three full-size theaters and lots of different extensive space science exhibitions. Children especially like to visit this place.
Chicago is also famous because of its thousands of churches. Those buildings are beautifully crafted with stunning old world flourishes and recognized for their large sizes and impressive scopes. Tourists can visit some churches in Ukrainian Village and go to see the Polish Cathedrals, such as St. Mary of the Angels and St. Hyacinth Basilica.
Since Chicago is one of the most diversed cities in the U.S., it is essential to take a trip to at least some of its many ethnic neighborhoods which reflect the culture of the immigrants who established them. Tourists can do it by taking a half-day bus excursions travel all over the city or travel themselves. There are Greek Town, Chinatown, Little Italy, Polish Triangle, Ukrianian Village, Pilsen & Little Village (largest Mexican communities), etc… When you visit those neighborhoods it is almost like travel to different countries because these immigrants used to build their houses, schools, restaurants, and other structures with the same styles like in their home countries. In addition, there stores have their national food and drinks and they speak and teach children their native languages.
Guests visit the Willis Tower Skydeck (the Sears Tower) for some of the most magnificent and breathtaking views on the city. It is especially beautiful in the evening with all lights on.
In Millennium Park visitors can find hundreds of free cultural programs including concerts, exhibitions, tours, and family activities. There is the famous Cloud Gate which has a nickname "The Bean" because of its bean-like shape.
The Buckingham Fountain is very popular as well. The fountain can be with kids playing in the water in the summer time which make it extremely entertaining to watch. This fountain is usually turned off about from the middle of fall to the middle of spring.
Shopping in Chicago like anywhere else because visitors can find there mostly everything they can think of.
Chicago has so many huge parks which are beautiful and have playgrounds for children. In Schiller Woods North and South guests come to see some of its wildlife and groves of white oak which are common within this forest preserve. There are some mowed picnic areas near which usually visitors can find deer and take pictures. People come to the woods to enjoy watching those animals because there are lots of them and they are normally not trying to run from humans. It is especially beautiful to watch deer in winter with snow around.