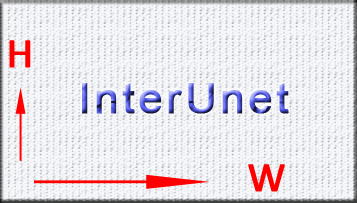 Different countries have their own standards of business cards. In US and Canada actual measurements of cards are 3.5 x 2 inches or 88.9 x 50.8 millimeters. Some European countries use 85 mm x 55 mm (3.35 in x 2.17 in) or 90 mm x 50 mm (3.54 in x 1.97). There are no strict requirements and worldwide standardization. But business cards supposed to be practical in use and because oversized dimensions might be too big for fitting into wallet or purse typically actual measurements do not exceed 91 mm (3.58 in) in width and 55 mm (2.17 in) in height. Aspect ratio or proportions between width and height of standard business cards stay within 1.42 – 1.8.
There is not only standard sizes exist, and business cards with odd measurements can be printed as well. Slim 3.5 in x 1.75 in (88.9 mm x 44.45), square 2 in x 2 in (50.8 mm x 50.8 mm) or 2.5 in x 2.5 in (63.5 mm x 63.5 mm) can be even ordered online. But such cards are considerably rare because of low popularity.
Design
There are nearly endless possibilities while designing a business card. Dozens programs offer already designed templates and after typing your or company info the cards are ready to be printed. For stylish appearance you might want to create company's logo or some other distinct elements which might take time, efforts and deeper knowledge of a designer or at least image editing software. Typically business cards have 1050 x 600 pixel dimensions with 300 dpi (dots per inch).
While working on design by self always choose adequate font size and colors combinations. Font size shouldn't be bigger than 14 – 15 or smaller than 7. While setting actual parameters do not forget include an extra 1/8" or about 3 mm bleed area around the card perimeter. It is not an actual border, but the edge which will be cut out after document is printed on typical 8.5" x 11" sheet of paper.
Weight
The weight will be determined by the thickness and quality of paper business cars made of. Even though, in the specifications you might find the cards made of 60, 80, 90 or 110 lb. paper, conversion it to a simple shipping weight might be confusing. Normally any order will have its minimum size and while you can buy as little as 100 cards at a time normally it is insufficient quantity and many customers prefer to double the order what might cause only 15% – 20% price increase. 250 business cards printed on 350 gram per square meter paper will fit into 4 1/2" x 4" x 2 1/4" cardboard and will weigh about 0.8 – 0.9 pounds or 0.36 – 0.41 kilograms total.
Cost determination
Business cards might be one of the most effective ways to advertise any business and at the same time it is relatively cheap. With latest technologies cards can be easily printed by most of business owners with minimal computer skills and knowledge which will allow cutting the cost significantly. Simple card with business name, address and phone number doesn't cost much even if you purchase it from local office supply retailor. The price per card will be significantly lower if make a bigger order.
Standard 15 point card in one color will be much cheaper comparing to multiple colors cards with raised letters printed on high quality texture or glossy paper.