Image: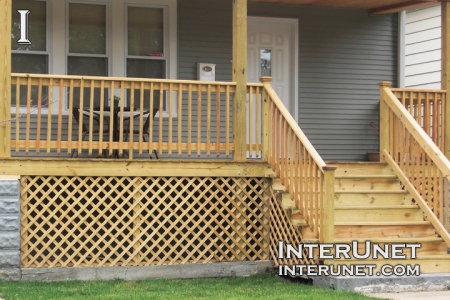 Porch as an additional structure may locate at the front or rear of the house. Street facing porches normally build to help create some community ties whereas back porches might be used for your social life if they are big enough for that matter. Back porches can be used as open dining rooms as well during warm periods of the year.
There are so many different designs and functions of the structure, but typically homeowners want to match it with the overall house style. Porches can be unenclosed and covered to make a shade on the entrance. Floors of such structures are normally built with some low angles that help to keep rain water out of it and still feel comfortable there on outdoor furniture. Covered porches might have screens which are used to exclude insects and mosquitoes especially it might be necessary in warm and humid areas.
What materials are used for building the porch?
Porch can be built from such materials as wood, metal, stone, cement, brick, or combination of those. They are all durable and which one to choose typically just a matter of personal preference or material available in a certain area to decide what can be better matched with their overall house designs.
Since porches will be built on the same height as the main floor, homeowners who have high basements might spend more construction materials. Stairs play tremendous role in your porch building project. They might take a half even more materials needed for the project.
If homeowners want to incorporate lights or other fixtures it will require installation of an additional outlet.
Is it possible to build a porch yourself?
There are special local building codes that must be followed while doing the project. That's why it might be a better idea to start familiarizing yourself with them and only after that start to design the porch the way you want and allowed. Permits also require getting before starting the work.
In most cases building a porch is not a do it yourself project especially if you want to have the metal porch. On the other hand, wood one can be potentially done by homeowner, at least the carpentry portion. The hardest part of this project is to install cement posts. Carpentering work can be done by the homeowner if he comfortable enough to deal with the wood. However, the inspector should approve his work. In case you hire a contractor then you shouldn't worry about anything but the quality of their performance. Proper installation of the porch is essential because if not the structure might start to sink on one or both sides especially if it is brick or concrete porches or it might not be safe for use at all.
How to reduce the cost of building a porch?
As longs as you are not going to perform the project yourself, don't buy all materials yourself. It is fine to make a custom order, but leave for the contractor to buy other things like joist hangers, screws or paint. They normally have discounts on it and they know which ones are better anyway. In addition, they might reduce a little bit overall price for the project. If your budget is low then prepare to perform some preparation, demolishing work, and painting if needed.