Image:
There are many types of flooring materials can be used as a floor covering in the kitchen areas. While there are many good choices to select from it is hard to say which one is the best. Only analyzing the properties of particular flooring along with personal preference will answer the question what will be the best.
Vinyl and linoleum flooring for kitchen
Vinyl tiles or one sheet of linoleum are worth to consider for kitchen flooring if the budget is limited. It is pretty durable floor covering and won't be damaged if water will stay on its surface for a while. Sharp objects dropped from the kitchen countertop might damage vinyl flooring and it might be hard to repair especially if it is a one solid sheet.
Tile kitchen flooring
Tile is the most durable and long lasting material. Quality porcelain tile with higher PER wearing rating is nearly maintenance free after installation and the best choice if there are children in the house who can easily spill some food or drop sharp objects on the kitchen flooring surface. Stone tile require periodical sealing, but will last for decades with a minimum care if installed properly.
Laminate flooring in the kitchen area
Laminate is a good alternative to hardwood flooring because of a similar look at a lower price. As many people might still believe it is a "cheap fake" of a real wood there many decent laminate flooring product which will fit perfectly in to any kitchen design. It is a fairly scratch resistant material and requires minimum care after installation.
Hardwood flooring for kitchen
Nothing can be compared to the beauty of a hardwood floor. It is very suitable for installation in the kitchen areas, but it might be damaged if the water will stay on its surface for long period of time. Even though some scratches and dent might appear on the surface overtime it can be easily refinished and with sanding out top layer the floor will be look like new after fresh finish applied.
Cork as a kitchen flooring option
Cork might be a good choice for kitchen if properly maintained and well taken care of. It is soft and feels warm under feet, but might be damaged very easy. For a family with children or big dogs who are running all over the kitchen cork flooring might be not the best choice. Other than that it is a good option to consider.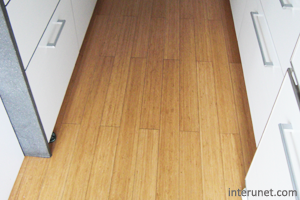 Bamboo flooring
Bamboo has very similar properties to a hardwood floor with its distinctive appearance. Natural bamboo is harder than red oak hardwood flooring and requires minimum care. It is ecofriendly product and has good water and moisture resistant properties, but all water spilled from kitchen sink, or any liquids should be cleaned and surface should be dry immediately. Excessive and long standing water might damage the floor.
What not to use for kitchen flooring
Carpet is not a good choice for installation in the kitchen mainly because it can get dirty very soon and will require often cleaning. Spilled food or drinks might left a dirty spots which are very hard to eliminate and wet areas will be longer to dry.
How to pick the best kitchen flooring
Family requirements and budget will determine the best choice. If the kitchen is a very busy area around the house and the durability is a prior concern, tile might be one of the best ideas. Hardwood floor will be a good choice for any family, but will require more care for extending its longevity. When the budget is very low vinyl flooring will be a perfect choice.