Image:
How much does it cost to replace bathroom vanity?
Cost to replace a bathroom vanity vary from $360 for standard 18"W x 16"D x 32"H cabinet with engineered composite vanity top with integrated sink and simple installation to $4,300 - $5,000 or even more for 72 in. wide a double basin vanity with travertine stone top and complex replacement.
Average prices for vanities
Cheapest vanity with a top can be bought from the shelf of a local home improvement retailer or ordered online for about $80 - $90. Prepare to spend $390 - $470 for decent quality cherry wood finish lavatory console and glass sink. Contemporary wall mounted white oak vanity set with two ceramic vessel sinks might cost $1,800 - $2,000. But price might easily exceed $3,000 for stylish custom build vanities.
Materials expenses
While performing vanity replacement additional $60 - $250 might be spend on p-traps, drain extensions, new cold and hot water shut-off valves and other materials necessary for the proper installation. Materials expenses will be higher in case of copper pipes and PVC drains replacement inside the wall.
Bathroom vanities might be sold as a whole unit including cabinet or base, vanity top with sink and faucet. Some manufacturers even offer a mirror with shelves or medicine cabinet for matching the vanity style including in the total price. Other option is to buy every piece separately and create unique design by self.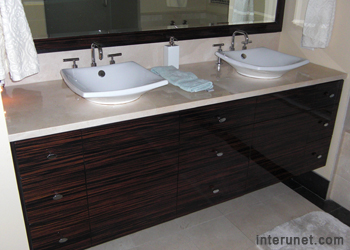 Labor cost
Remodeling contractor will calculate the total cost for replacement after in home estimate and analyzing work complexity. Disconnecting and demolishing old vanity and installing same size new cabinet, vanity top with sink and faucet might be estimated at $270 - $290 at lowest end. Labor cost will increase if fixing wall or flooring covering materials will be involved. Replacing larger and vanities which require assembling prior to installation will be charged at higher rates and the total man power expenses might go up to $500 - $700. Before hanging heavy vanity on the wall wood blocks might be necessary to install behind the drywall firmly connected with wall studs. In such case labor cost will increase as well.
Replacing vanity during complete bathroom renovation project normally will be cheaper comparing to hiring contractor for a vanity replacement only.
Estimating time
Simple replacement of standard single sink vanity might be completed by professional installer in 3 – 4 work hours. Two people might spend half of a workday for removing old and installing bigger a double sink wall mount vanity. But removing water and drain pipes in different place putting new drywall, backer boards and tile along with painting might take as long as 2 – 3 full work days for completing the project.
Hire professional or do it yourself
Simple vanity replacement which doesn't involve complex plumbing work might be performed as a do it yourself project and many handy homeowners might consider cutting labor expenses. For more complicated replacement it is better to hire professionals. Fixing water damages after a poor plumbing work doesn't worth saving a few hundred dollars on labor initially.