Image:
Vanity is one of the most important elements of a whole bathroom design. There are numbers of factors should be analyzed prior to make satisfactory decision which bathroom vanity to choose while planning on house renovation project.
Dimensions of vanity
Size is prior factor to start narrowing down all possible options. Actual measurements of vanity should be proportionally adequate to overall bathroom dimensions and still practically meet homeowner's requirements. Bigger bathrooms can easily accommodate 72" wide double sink vanity and still have enough space for other essential fixtures. In smaller powder room it might be better to install compact 15" W x 12" H wall mounted sink which consumes minimum space.
Cost determination
Bathroom vanity prices vary significantly. On a low budget it might be wise to buy stock vanity cabinet and standard vanity top with integrated sink from local home improvement store. Higher quality stylish collections will be easily a few times more expensive, but with its unique appearance it might be the only solution for high end custom homes. While vanity price is initial expense, hiring professional to perform installation or replacement will increase the overall upgrading cost.
Design and styles
Vanities are available in Antique, Traditional and Contemporary style from major online and local retailers. But there are no limits in design and vanity in dozens of other specific styles including Colonial, Cottage, Tuscan or Victorian might be easily ordered to comply with any home interior design.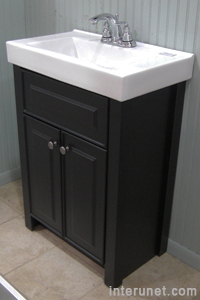 Installation types
Floor standing vanities are the most popular option and it is very easy to install. Wall mounted vanities are more complex in term of installation. Very often prior to hanging heavy cabinet and sink on the wall it might require installing some additional wood blocks behind the drywall firmly connected with wall studs.
Materials
Different types of wood species might be used for making vanity cabinets. Natural or synthetic stone is very typical for vanity tops fabrication. Pedestal and wall mounted vanities often made of fireclay or ceramic. Wong iron, glass, stainless steel or variety of engineered composite materials can be used in manufacturing of bathroom vanities.
Color and type of finish
Vanities made from wood can be painted or stained in multiple colors. White, brown or black finishes which available in different shades are among the most popular. Distinctive characteristics of natural or engineered materials used for making bathroom vanities make the appearance unique with its own look.
Shopping for a new bathroom vanity
Vanity should not only posses stunning visual expression, but be practical in use as well. Having an extra storage for towels, cosmetics or bathroom accessories under the sink might be much more convenient options than just open space.
Some vanities come as a whole unit including cabinet and top with integrated sink ready to install. Other vanities required assembly. Buying cabinet separately and choosing from stock or ordering from local stone fabricator top with a sink might be preferable solution.