Image: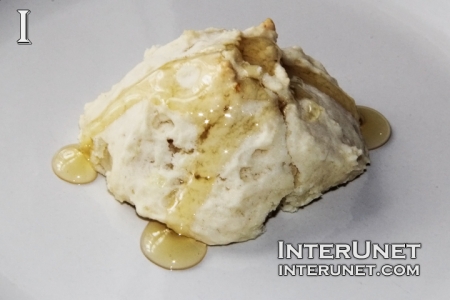 Ingredients
1 cup or two sticks of butter
1 cup of white sugar
2 eggs
2 ¾ cup of all-purpose flour
¾ cup of cottage cheese
½ teaspoon of salt
½ teaspoon of baking soda
½ teaspoon of baking powder
Cooking direction
Step 1
Separate egg whites from yolks.
Using a mixer beat in different bowls egg whites with 3/4 cup of sugar and egg yolks with 1/4 cup of sugar for few minutes.
Combine beaten egg whites and yolks together.
Add to the mixture slightly melted butter and cottage cheese.
On top of the cottage cheese put baking soda, powder, and salt.
Gradually add flour by mixing ingredients together well after each adding.
Step 2
In order to make cookies puffy, you need to add as many flour as the dough can take. If you will put not enough flour, your cookies will be softer, but you need to give more space between each piece of dough when placing them on baking tray in order to avoid sticking to each other.
Preheat oven to 350 degree Fahrenheit before placing the baking tray into the stove.
Step 3
Bake cookies for about 18- 20 minutes or until ready. The thicker the dough the longer you need to keep them in the oven.
Note, the cookies are not supposed to be golden brown. They should be just a little bit yellow or golden from bottoms and tops.
Step 4
Remove cookies from baking trays and place them directly onto plates. Cooling off period is not required.
Step 5
To make cottage cheese cookies even more delicious and special, serve them with honey, jam, or syrup.