Image: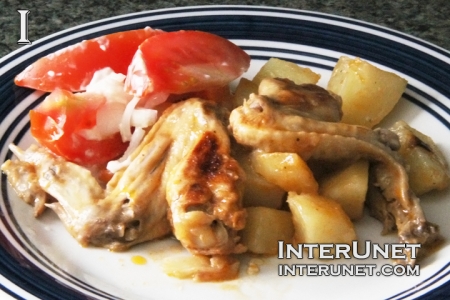 Ingredients
4 pounds of chicken wings
4 pounds potatoes
1 large carrot
1 large onion
Mayonnaise and barbecue sauce by taste
Salt and pepper by taste
Cooking directions
Step 1
Wash well chicken wings under the faucet and remove any feather or anything else from the skin. Pill potatoes, carrot, and onion. Prepared ingredients put in one easy reachable place near the kitchen stove.
Step 2
Salt and pepper each chicken wing by taste. In the large bowl mix well cleaned chicken wings, mayonnaise, and barbecue sauce.
Step 3
Place the wings into the glass baking tray.
Step 4
In a large bowl mix chopped potatoes, salt, and mayonnaise.
Step 5
Cut an onion and carrot. Place them on top of chicken wings.
Step 6
Place the potatoes on top of everything in the glass baking tray. Preheat the oven to 375 degree Fahrenheit.
Step 7
Cover the tray with foil and place it into preheated the oven for 1 hour 20 minutes.
Step 8
In an hour and twenty minutes dinner is ready.
Step 9
When serving the dish, put all layers on a plate.
Step 10
Enjoy chicken wings and potatoes with some salad.