Image: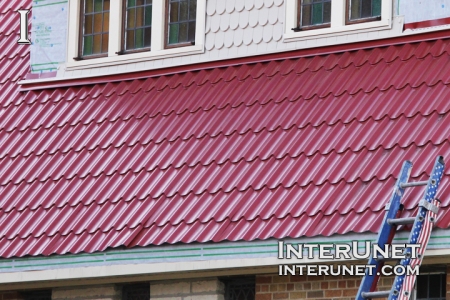 What is better roofing materials asphalt shingles or metal roof?
Roof is very important investment for any homeowner. That's why it is important to choose the roof materials that will be durable, affordable, last long, and have an aesthetic look. Nowadays with progressing technology many roofing materials have stunning or at least decent look. Therefore, it is more matter of preference, cost-benefit concern, and region where you live to decide what will work best for you.
Asphalt shingles
Asphalt shingles in particular are widely used on residential roofs for years. They are relatively easy to install, and in some applications can be nailed in place over an existing roof a few times. It is not a do it yourself project, though. Professional installers should be hired in order to perform the work. Shingles made in varied colors that everyone can match them with the overall design of the property. However, it might be wise idea to consider choosing some lighter colors of the roofing materials in order to reduce your electricity bill. Dark colors doesn't reflect sun light and heat the house a lot which makes you not turning off your coolers all day long and even night.
Asphalt as roof materials are light even if they go in different thickness and normally don't require adding any additional support for the roof structure. The shingles have decent performance especially in cool climates where life span can go even up to 20 years. On the other hand, in hot climates it performance can slide down to as low as 10 years. In some regions they might not be recommended at all due to high winds. Asphalt shingles are prone to getting blown off the roof because they attached from the top of the shingles only. Strong winds can easily lift them up leaving homeowners with leaking roofs and other problems, including costly repairs or replacements.
Metal roofing
Metal roofs were not that popular and used mainly in rural areas as barn roof coverage. They were not very attractive because of cost, rust that developed over time, and simple look. Nowadays manufacturers can make almost any shape of the metal roof and it can emanate other roofing materials such as asphalt, slate, and wood shingles. This type of roof won't rust with proper installation and last life time with little or no maintenance at all. Metal roofs are very durable and light, so they can be installed in any climate condition without the need to strengthen the roof support.
Some people might concern with the cost issue, but since the metal is very recyclable material it won't cost you much more than any other roofing material. In addition, you might have peace in mind that you installing your roof from recyclable materials too and making your own input into environmental benefits. Metal roof is not only weather proof, but fire proof as well. If something will fall on it from the higher standing building it won't flame. This type of roofs might be energy efficient. They can reflect sun light and prevent from overheating the attic. Metal roofing can be installed over existing roofs which might reduce installation expenses by eliminating demolition of old roofs.