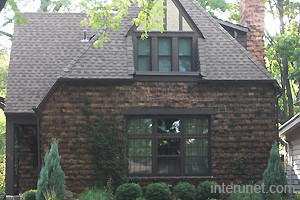 Owning a home for many people is usually more than just having a dwelling to live in. For those who settle down and plan to stay in one place at least for 5 – 10 years is usually better to buy the property rather than rent it. Even if in a few years you need to move you can sell the house and reinvest the money in purchasing new one.
Invest in equity
Investment in real estate will be almost all the time more profitable to a person even if he sells the property at loss. When the individual invests in real estate some of his money will come back to him whereas with leasing they won't unless he chooses a buying option at the end of the lease term.
Get tax benefit
Taxpayers who have home mortgage and property (real estate) taxes can exclude that from taxable income and reduce their total tax in case they will itemize their deductions. In addition, only homeowners might qualify to get tax credits for energy-efficient home improvements such as insulation, windows, furnaces, hot water boilers, solar panels, etc…
Rent
If you own a property and lease some portion of the house, it can help you out with covering mortgage payments. Occupants are not necessary supposed to be just regular tenants, but even family members or friends.
Perform interior and exterior remodeling at your own discretion
Unless it is not against any law or city codes, an owner of the building can remodel the property the way he wants. For example, the homeowner can add / eliminate a window or move / get rid of a wall. When people occupy others' property they are rarely allowed doing some rejuvenation in lieu of rent. Landlords want money and minimum input or investment for it.
Do whatever you want with the property
When it is your house you decide at your own discretion what should be done there. Homeowners live and enjoy the way they want it. There won't be any limits and you do not need to stuck in boring or standard designs.
- Make addition or patios
Many people like to invite their friends at backyards' open living areas in the summer time. Some creative individuals desire to build porches, patios, or a tree house for kids (if any).
- Build fences and do landscaping
Many homeowners like to have privacy fences especially if they plan to build a swimming pool on the backyard. Landscaping is also might be an issue for many renters. Of course, some do not care while others do. They want to come home and enjoy flowers or trees they planted in front or on the backyard of the building.
- Build or expend a garage
It is very important for car owners to have attached or detached garages. Unfortunately, many rental properties do not provide tenants with a garage space. Renters must park their vehicles on streets facing risks that the cars might be damaged from street salt in the winter time, hit by the other car, or someone might even break into. Therefore, owning some property with land will alow to build the home for your auto as well.